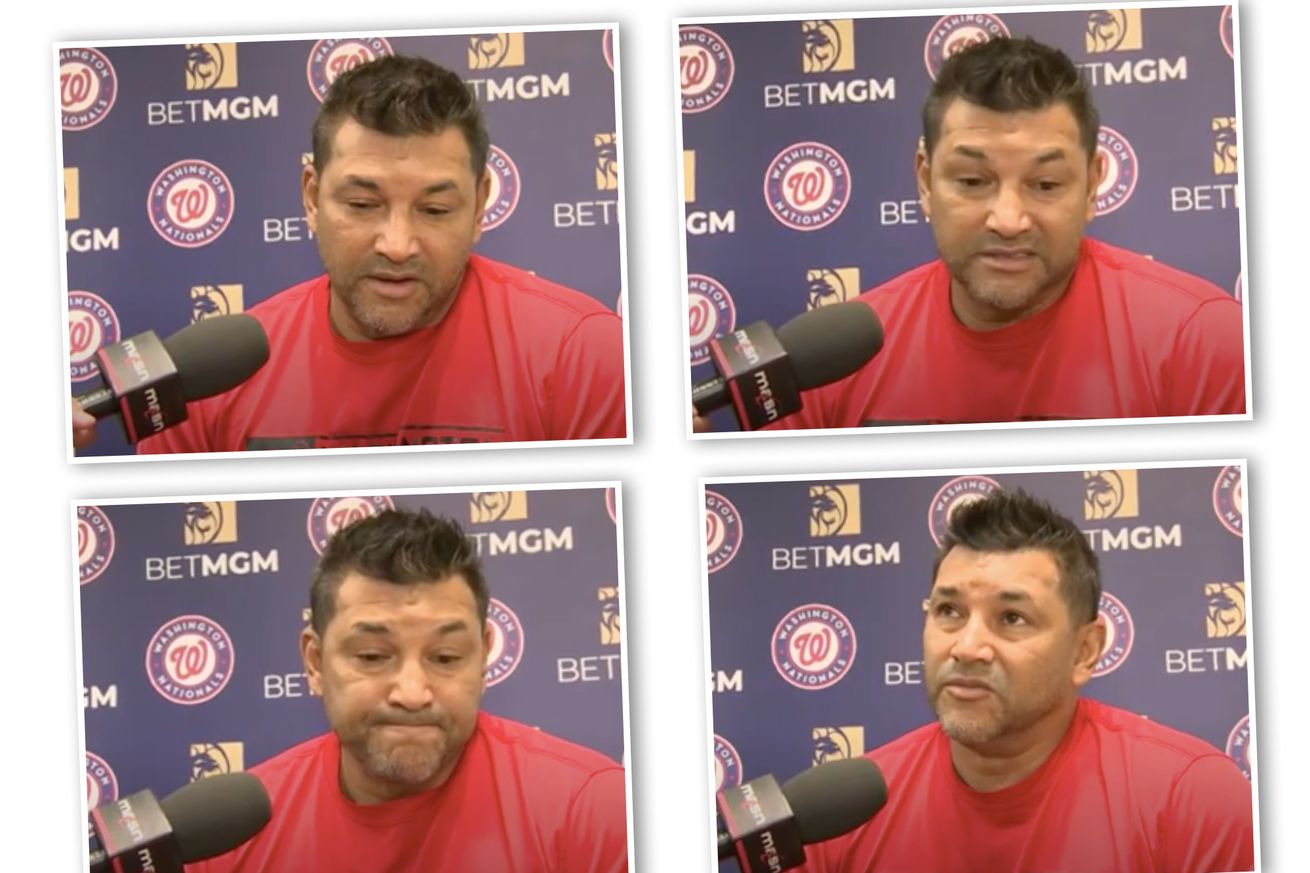 Notes and quotes from the Nationals' win on Sunday in the finale with the Brewers…
Luis García hit a 96 MPH, 1-2 fastball from Milwaukee Brewers' starter Brandon Woodruff 393 feet to left-center field for a solo home run (his 8th this season) in the top of the second and the home team small-balled their way to a tie with a leadoff single (by Mark Canha), a stolen base, sac bunt (by William Contreras), and sac fly (by Carlos Santana), to knot things up at 1-1 in the series finale for Washington in American Family Field this weekend. It went to extras tied, but the Nationals pushed a run across in the 11th, with CJ Abrams tagging up on a Lane Thomas fly ball to right field, and scoring on a sac fly to center by Joey Meneses which gave the visiting team a 2-1 lead.
In the bottom of the 11th, the Brewers bunted their free runner over, and with runners on the corners after an intentional walk, Rowdy Tellez hit a 1-1 slider to first base (at 102.8 MPH, exit velo), where Michael Chavis dove on the ball, popped up to tag first then threw home to get out No. 3 when the runner on third realized he wasn't going to make it and retreated only to get tagged out by catcher Drew Millas after a brief chase.
"Awesome, awesome," Nats' skipper Davey Martinez said of Chavis's quick thinking and his execution on the play, as quoted by MASN's Mark Zuckerman after the game. "That's just a good baseball player thinking about the situation. The fact that he stepped on first [base] first and knew right away to check the runner, saw him go and then threw the ball home was awesome. Great job."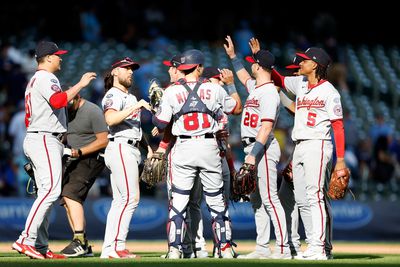 With the win, the Nationals avoided a sweep in the Brewers' home, and snapped their five-game losing streak in the process.
"Just a great win," Martinez added. "The guys battled. We battled yesterday, and we were in a lot of these games.
"To finish a series like this, against a really good team, it feels gratifying."
García's second home run in two days and Meneses's sac fly (which added to his team-best RBI total – 81) provided the only runs the Nationals needed in the win, with the DH hitting an 0-2 slider up in the zone to center field, just deep enough to bring Abrams in from third for the eventual winning run.
"Joey did a great job of just staying in the middle of the field and hitting the ball in the air," Martinez said. "We had the right guy running at third base, as well."
The Nationals got another solid start from Patrick Corbin too, with the veteran left-hander going six strong in which he gave up four hits, two walks, and one earned run, throwing a total of 88 pitches, 47 strikes, with four swinging and 13 called strikes in the outing, which was his second consecutive winning effort.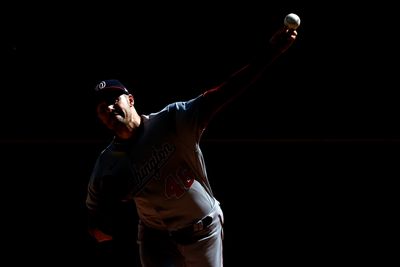 "He's been pitching a lot better," Martinez said. "He knew what he had to do today, and he gave us six strong innings. That was awesome. Moving forward, I want him to finish strong, have a good offseason and be ready to go again next year."
"I feel good," Corbin told reporters, as quoted by MASN's Mark Zuckerman, after the game.
"The last two, our team has won those games," he said. "I'm just trying to continue that. I probably have a couple more left. Just always looking to finish strong, and hopefully as a team we do that as well."
Bringing their five-game losing streak to an end was a nice way to wrap what was a 1-5 road trip going into the finale in Milwaukee, but they dropped 2 of 3 in the series, and Washington's lost 11 of 15 games in September to this point, after a 17-11 month of August.
Now they're back home for the final homestand of the season, with three with Chicago and four with Atlanta before they wrap up the 2023 campaign with two games in Baltimore and three in the Braves' home to end the season.