Over the course of the 2019/20 NBA season, up until February's trade deadline, we're keeping an eye on potential trade candidates from around the NBA, monitoring their value and exploring the likelihood that they'll be moved. Each of these looks at possible trade candidates focuses on a specific division, as we zero in on three players from that division.
We're still more than two weeks away from December 15, the date when most of this past offseason's free agent signees become trade-eligible, so the NBA's 2019/20 trade season hasn't really begun yet. But with the regular season nearing the one-quarter mark, we're getting a better sense of which teams might be buyers and which non-contenders will end up being sellers.
Having gone through all six divisions once as we examine potential trade candidates, we're starting our second go-round today. Here are three more possible trade candidates from out of the Southeast:
Davis Bertans, PF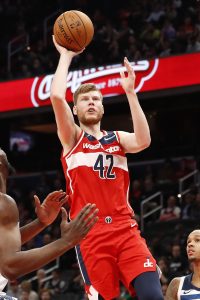 Washington Wizards
$7MM cap hit; UFA in 2020

Bertans, who would likely still be a Spur if Marcus Morris had never agreed to sign with San Antonio over the summer, has played a crucial role in helping the Wizards post some of the NBA's best offensive numbers. One of the most dangerous frontcourt shooters in the league, Bertans is making a career-high 44.3% of his three-pointers on 7.6 attempts per game and has increased his scoring average off the bench to 13.3 PPG.
The Wizards might try to lock up Bertans long-term, but the 27-year-old will be an unrestricted free agent at season's end, giving the club little leverage in contract talks. If Washington falls out of the playoff hunt in the East, Bertans will be one of the team's best trade chips, based on his affordable cap hit ($7MM), his expiring contract, and his ability to provide instant offense.
One scout who spoke to ESPN's Bobby Marks earlier this month suggested that it wouldn't be a surprise if there's a team willing to surrender a late first-round pick for Bertans at the trade deadline.
Jabari Parker, PF
Atlanta Hawks
$6.5MM cap hit; $6.5MM player option for 2020/21

Like the Wizards, the Hawks probably won't shift into selling mode until their playoff hopes are all but extinguished. And it may take a while for that to happen in an Eastern Conference where the 8-12 Hornets currently hold onto the No. 8 seed.
Still, at 4-15, the Hawks are already 3.5 games out of the postseason picture, so unless they start winning some games soon, they'll have to consider shopping some veteran players. Although Parker is only 24, the sixth-year forward qualifies as one such veteran.
With 17.8 PPG on 51.8% shooting through 18 games (28.1 MPG), Parker has been the Hawks' best scorer not named Trae Young this season. And it's not as if he's been putting up numbers against second-stringers — he has been a starter since John Collins was hit with a 25-game suspension early in the season.
With a $6.5MM player option for the 2020/21 season, Parker could be a one-and-done in Atlanta, so if a team in need of frontcourt scoring wants to make a play for him before the deadline, the Hawks would be wise to listen.
Aaron Gordon, F
Orlando Magic
$19.9MM cap hit; descending guaranteed salaries through 2021/22

By all accounts, Gordon isn't a trade candidate right now. Shams Charania of The Athletic reported two weeks ago that teams were monitoring the former No. 4 overall pick in case he becomes available, but said that Orlando has shown no interest in such a move.
Still, the Magic (7-11) have been disappointing so far and their offense has been disastrous. Jonathan Isaac, not exactly a dynamic scorer himself, nonetheless looks like a franchise cornerstone due to his versatility, defensive ability, and upside, and Sean Deveney of Forbes recently suggested there may be some concern within the organization about the long-term fit of an Isaac/Gordon frontcourt.
Gordon is just 24 years old and still has intriguing potential, despite his lack of improvement so far this season. He also has a contract that declines in value each year, eventually dipping to $16.4MM in 2021/22. That makes him a valuable trade chip.
I think the Magic front office will be patient in giving the current group every opportunity to make things work, and a trade for scoring help wouldn't necessarily have to include Gordon. But moving the young forward is a possibility the team should at least consider if its struggles continue.
Photo courtesy of USA Today Sports Images.