The Wizards will certainly receive numerous calls on Davis Bertans before the trade deadline, but rival teams will have a tough time prying Bertans from Washington, a source tells Hoops Rumors. Many within the team's front office are huge fans of Bertans and with the franchise looking to improve sooner than later, the Wizards could opt to keep the 27-year-old power forward with the intention of re-signing him this offseason and having him available for a more competitive 2020/21 campaign.
Bertans is making $7MM in the final season of his contract,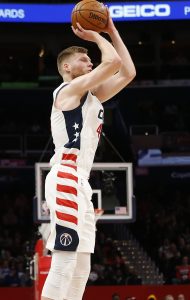 though he's likely to see a sizable raise on that figure this offseason given his improved play and the lack of major talent on the market. The big man's projected market will likely play a role in what direction the team goes at the deadline, though it's worth noting that the Wizards own Bertans' Bird rights, so they could go above the salary cap to keep him on the roster.
Washington has a few sizeable contracts coming off its books this offseason (Ian Mahinmi at $15.4MM; C.J. Miles at $8.7MM) but still has roughly $96MM in guaranteed money allocated to just eight players for the 2020/21 campaign. Next summer's salary cap is expected to come in around $116MM, though that is simply a projection and may not include potential ramifications from the Chinese market.
What could the Wizards net if they traded the Latvian Laser? ESPN's Bobby Marks reported last month that a first-rounder in return isn't out of the question. Bertans' recent run (no player has made more 3-pointers over the last 10 games), as well as his ability to fit seamlessly on nearly any roster, makes it difficult to envision a mere protected first-round pick getting him out of Washington.
Which team would make sense for Bertans if the club dealt him away? Philadelphia could certainly use outside shooting and as I mentioned on NBAMath.com, GM Elton Brand was just one of several Sixers executives in Washington for the team's recent tilt with the Wizards.
Bertans came to the Wizards via the Spurs' three-way trade for DeMarre Carroll. San Antonio selected the big man with the No. 42 overall pick back in the 2011 draft, though he didn't come stateside until the 2016/17 season.
Photo courtesy of USA Today Sports Images