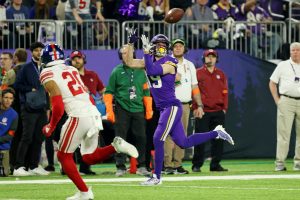 It has been over a week since 2023 NFL Free Agency has kicked off. After over 75 percent of PFF's top 100 free agents have found homes, who are the early winners and losers of 2023 NFL Free Agency?
5 Winners and Losers of 2023 NFL Free Agency
Winners
Chicago Bears
In a great piece by Josh Buckhalter, he outlined the top four team needs and specific players the Bears need to sign to fix their defense. While the specific players may not have come to fruition, most of the positions have.
They needed to bolster the edge of their defensive line. Check. Demarcus Walker recorded seven sacks in 2022, which is more than a third of the total team sacks for Chicago in 2022. Then they needed a playmaker in the middle of their defense. Check. Tremaine Edmunds has an argument to be in the top ten linebackers in the NFL. The interior of their line needed a boost. Check. Andrew Billings is arguably their best defensive lineman already. Lastly, they needed help defending the pass. They did not add a corner, but T.J. Edwards is an above-average pass defender from the off-ball linebacker position. Great start.
Tremaine Edmunds: Click, close, dislodge the ball

His recognition in coverage has really improved over the years, I imagine he's spent a TON of time in the film room. The #Bears are getting a linebacker that'll make the middle-field area tough to throw into. pic.twitter.com/teepmAtLLP

— Robert Schmitz (@robertkschmitz) March 14, 2023
Carolina Panthers
Even if you take the big splash trade out of the equation, the Panthers have made some sneakily good moves. They began with an Andy Dalton signing to mentor their future number-one overall pick. Followed that up with Adam Thielen on the cheap to mentor whatever wide receivers they add in the draft (or the ones already on the roster). Then they signed an underrated weapon in Hayden Hurst to add some firepower to an otherwise sub-par offense. Finally, their Miles Sanders addition could open up the offense. While he may not be the number one running back in America, Sanders is a threat with the ball in his hands and is only 25. Panthers fans should be excited with how their front office handled 2023 NFL Free Agency.
Losers
Baltimore Ravens
The dark cloud hanging over the Lamar Jackson situation seems to be keeping free agents away. On a team that desperately needs wide receiver help, the Ravens biggest news is that Nelson Agholor was in town. Rough. This front office needs to take advantage of 2023 NFL free agency before every player worth signing is gone. Unfortunately for the organization, there is no way to know what their budget is until the Lamar contract dispute is fixed.
New Orleans Saints
This is a rough, rough cap situation. The Saints certainly made the biggest splash of 2023 NFL free agency by signing Derek Carr, but is he really an upgrade over anyone they had on the roster? Then they lost five starting caliber players and a couple of backups to other teams and replaced them with players on one-year prove-it deals. Their most impactful signing outside of Carr may have been Jamaal Williams, but he will be 28 by the time the season rolls around, and they signed him to a three-year deal. The best case scenario for this season is limping into the playoffs by beating an otherwise sub-par NFC South, then what?
Wild Card
Pittsburgh Steelers
In the hearts and minds of Steelers fans, this was a flashy free agency. They added Isaac Seumalo, a key cog in the Philadelphia Eagles offensive line. They also locked down a veteran presence in their defensive back room with Patrick Peterson. While they have addressed some of their major holes, they are still sorely lacking a starting caliber safety alongside Minkah Fitzpatrick and may have pigeonholed themselves into having to select a tackle, defensive lineman and corner in the first three rounds of the NFL Draft. This team could take a huge step forward in 2023 or fall flat on their faces.
The post 2023 NFL Free Agency: Winners and Losers appeared first on Last Word on Pro Football.