The Redskins organization has seen plenty of turnover in recent years, but one consistent has been Bruce Allen. Could the team president suddenly be on the hot seat? Mike Garafolo of NFL Network seems to think so. Appearing on Good Morning Football, Garafolo said that everything is up for evaluation in Washington this offseason, and that includes Allen's role with the organization (Twitter link).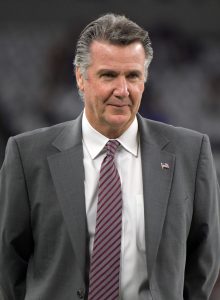 The reporter adds that the team has hit "rock bottom right now," and owner Dan Snyder understands that something drastic needs to happen. Further, Garafolo opined that "for the first time, i'm really feeling like they are evaluating Bruce Allen's role with the team going forward." For what it's worth, Garafolo also added the caveat that Allen's job could be safe should the Redskins and rookie Dwayne Haskins show up down the stretch.
George Allen had coached the Redskins to their first Super Bowl appearance back in the 1970s, making his son Bruce a popular pick when he was hired as the organization's general manager in late 2009. The executive has seen a number of title changes during his tenure with the Redskins, including his promotion to team president in 2014. Allen had previously served as general manager of the Buccaneers.
While Allen has continually had the trust of Snyder, he's struggled to field a competitive team. The Redskins are 44-79 during his time with the organization, and the Redskins only has a single playoff appearance during that span. The front office is now searching for the third head coach of Allen's tenure after he fired Jay Gruden earlier this season (Bill Callahan is currently serving as the interim head coach). Mike Shanhan had served as head coach/executive vice president from 2010 to 2013.
Photo courtesy of USA Today Sports Images.