Redskins running back Derrius Guice returned to the practice field on Monday. With that, the Redskins are hoping that he'll be able to take the field for Week 11, when they take on the Jets.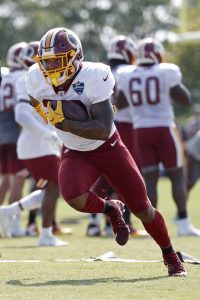 Guice underwent knee surgery earlier this year and landed on IR for a second-straight season. All along, the Redskins planned to bring Guice back from IR using one of their two allotted slots, and that's exactly what they'll do, barring any setbacks.
The 2018 second-round pick suffered multiple setbacks in his recovery from last year's knee injury, so his latest one was a major source of frustration. Despite it all, Guice has kept up the fight, with an eye on fulfilling his enormous potential.
Without Guice, the Redskins have turned to Adrian Peterson, who turned in yet another solid performance on Thursday night against the Vikings. Facing his former friends, Peterson ran for 76 yards off of 14 carries, good for 5.43 yards per tote. Over the last three games, Peterson has averaged 4.82 yards per carry, which isn't too shabby for a 34-year-old that has been counted out on multiple occasions. Still, the Redskins know that their backfield will be even better with Guice on hand.
Photo courtesy of USA Today Sports Images.