Redskins tackle Trent Williams failed his physical, according to an announcement from the club. This means that Williams will not be able to play right away, despite having reported to the club on Tuesday.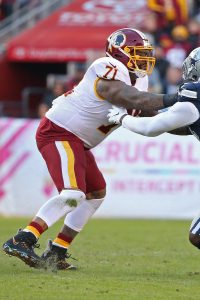 Williams experienced discomfort while putting on his helmet, coach Bill Callahan told reporters. This likely means that Williams got the all clear from team doctors, but felt that he was unable to take the field.
The Redskins, meanwhile, have obtained a roster exemption for Williams. This, on the surface, means that the team can wait a week or more before activating him. Effectively, it means at least two weeks on the sidelines for Williams, since the Redskins will be on their bye after facing the Bills on Sunday.
The bigger picture is this: The Redskins can hypothetically stall things with Williams for at least three weeks and make the argument that his 2019 season should not count, for contractual purposes. That would allow the Redskins to keep his rights through 2021, rather than 2020.
Williams, 31, skipped out on the entire preseason before sitting out the first eight regular season games. The Redskins considered trading him just before the Tuesday trade deadline, but ultimately stood pat.
Photo courtesy of USA Today Sports Images.