Here's some pie-in-the-sky fodder for your Sunday morning. Per Jason La Canfora of CBS Sports, Redskins owner Dan Snyder — who recently fired head coach Jay Gruden — is expected to make a strong push to acquire Mike Tomlin from the Steelers this offseason. La Canfora adds that Snyder, who has long admired Tomlin, is prepared to trade draft picks to Pittsburgh to bring the Super Bowl-winning HC to Washington.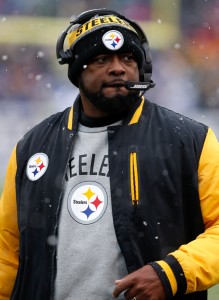 Although there is a large contingent of Steelers fans who are unhappy with Tomlin, his standing within the organization seems just fine. Pittsburgh did raise some eyebrows when it gave Tomlin a one-year extension in July instead of the usual two-year re-up, especially since his new extension does not have an option for a future year. However, he is still under contract through the 2021 campaign, and team ownership has never expressed anything less than full confidence in him.
On the other hand, the Steelers may be nearing something of a crossroads in franchise history. Although Ben Roethlisberger is expected to make a full recovery from his recent elbow surgery and reclaim his starting job in 2020, the team is likely going to need to usher in a new quarterback era in the next couple of years, and GM Kevin Colbert is only under contract through May 2020 (Colbert apparently wants to go year-to-year, which means Pittsburgh may also be looking for a new top personnel exec in the not-too-distant future).
Plus, the Steelers are short on high-level draft capital in the 2020 draft as a result of their trades for Devin Bush and Minkah Fitzpatrick, so an offer for Tomlin could be more appealing than it otherwise might be. Sources close to Tomlin suggest the Redskins' job could appeal to him, particularly since Snyder is willing to give him a top-of-the-market salary and full authority over personnel. Tomlin also has relationships with Washington team president Bruce Allen and GM Doug Williams.
But when weighing the Steelers' record of stability and status as a perennial contender against the Redskins' history of dysfunction and misery under Snyder, it is difficult to imagine a trade like this coming to fruition. If Snyder is unsuccessful in his pursuit of Tomlin, La Canfora says current Buccaneers DC Todd Bowles would be a top alternative, and we recently heard that Washington OC Kevin O'Connell will also receive strong consideration.
Adam Schefter of ESPN.com neither refutes nor supports La Canfora's report, but he does say Snyder will be patient in this process and will not begin his head coaching search until after the season. Snyder will give interim HC Bill Callahan and O'Connell the remainder of 2019 to prove their worth without any additional distractions.
Photo courtesy of USA Today Sports Images.