Recent reports have connected Urban Meyer to the Cowboys' head coaching job, which is widely expected to become vacant at the end of the season. In addition, Meyer was at FedEx Field on Sunday to take in the Eagles-Redskins game, which gave rise to a report that Washington would also make a play for Meyer for its own HC post.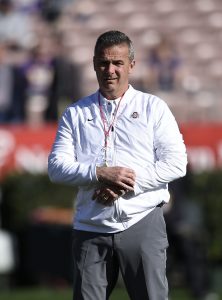 While Meyer would almost certainly prefer to coach the Cowboys instead of the Redskins, Meyer himself said, "I think I'm done coaching," as Brit Hume of Fox News tweets. Per Hume, Meyer was in town for a White House Christmas party after attending Saturday's Army-Navy game, and he knew his presence at the Redskins' home venue would create additional speculation about his future plans.
Of course, Meyer could have simply been trying to deflect such speculation, and he did recently indicate that the Dallas gig appealed to him. Ian Rapoport of NFL.com says Meyer is certainly enjoying his retirement from coaching, but he tells us to "stay tuned" (Twitter link).
For what it's worth, Cowboys owner Jerry Jones said that he will wait until after the season to evaluate head coach Jason Garrett, as Clarence E. Hill Jr. of the Fort Worth Star-Telegram writes. But barring a Super Bowl win, it feels like Garrett will be seeking new employment in 2020.
Meyer is one of the most accomplished head coaches in college football history and boasts a 187-32 career record that includes a whopping 12-3 mark in bowl games. He also won three national championships, two with Florida and one with Ohio State.
Photo courtesy of USA Today Sports Images.